On 17/12, the Grassroots Level of the Party Committee of the Ministry of Agriculture and Rural Development celebrated 25 Years of Establishment of Party Committee's Bloc (1996 – 2021) at the Conference Hall of the 2nd Agriculture and Rural Development Management School (45 Đinh Tiên Hoàng, Bến Nghé Ward, District 1), honouring and awarding certificates to the companies with excellent achievements in the fight against Covid-19.
At the Ceremony, the Party Committee (PC) recognised and commemorated Searefico's excellent performance in Covid-19 prevention. The PC also recognised the effort made by the people of Searefico in participating in and contributing to the development of the City, joining hands with the City to overcome the hardships and challenges. This is the utmost meaningful support to the City in times of unprecedented crisis brought forth by the fourth wave of Covid.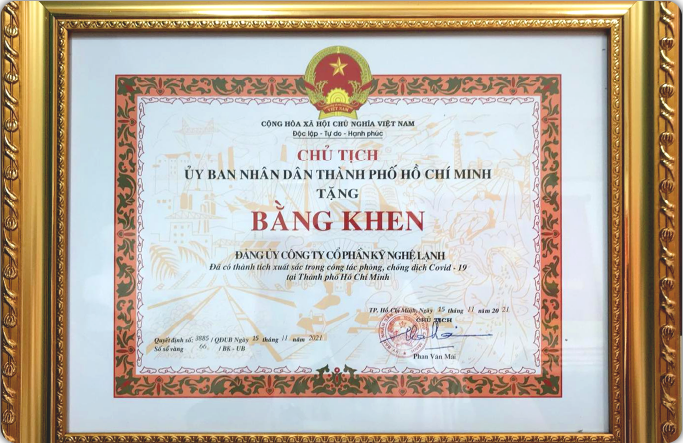 Mr Phạm Ngọc Sơn – Secretary of Party Committee & Deputy Director of Searefico came to receive the honourable certificate from the Standing Committee of Party Committee of Hồ Chí Minh City and People Committee of Hồ Chí Minh City.
Despite being a part of a business community affected by the Covid, Searefico and the people of Searefico have always stood in the vanguard position, readily joining hands with the community in fighting against the pandemic. Furthermore, the BOD of Searefico has maintained a stable business rhythm amongst the group members to ensure the wellbeing and livelihood of the employees, contributing to the making of a more unified and humane Searefico.