In line with the complicating COVID-19 situation, on May 30th, the People Committee of Ho Chi Minh City issued document 1749/UBND-VX, further accelerate pandemic control, applying Directive 15+ across the Ho Chi Minh City area, and Directive 16 at some locations.
Therefore, we have shifted our working methods to the followings:
Applying telecommunication, online communication for daily working and meetings;
Enforcing Work From Home policy toward employees and staffs in highly infected areas.
Enforcing ON/OFF working method (rotating period of 2 weeks/rotation) toward employees and staffs in the less likely infected areas, minimise the onsite staffs.
Maintaining dual targets: Health safety and Businesses as usual.
Communicating and following directions from authorities, National Committee, Ministry of Health on COVID-19 preventions.
Establishing Subcommittee, organising COVID-19 testings, health check-ups, supervising disease prevention activities, especially combining MoH's 5K methods and 4 Onsite Disease Prevention mottos: Onsite Command, Onsite Human Resource, Onsite Logistics, Onsite Instruments and Equipment.
Maintaining activities at Industrial Zones' factories and projects, following delivery and construction timeline; complying with emergent requests from Industrial Zones Board of Management.
If you are a previous or traditional customer/ client: Please keep in touch with your dedicated lead or send mails to our office on 14th Floor, Centec Tower, 72-74 Nguyen Thi Minh Khai, District 3, HCMC.
If you are new to Searefico, please contact us via the following official channels:
Email: info@searefico.com
Website: https://searefico.com/
Facebook: https://www.facebook.com/searefico.official
Tel: 028 3822 7260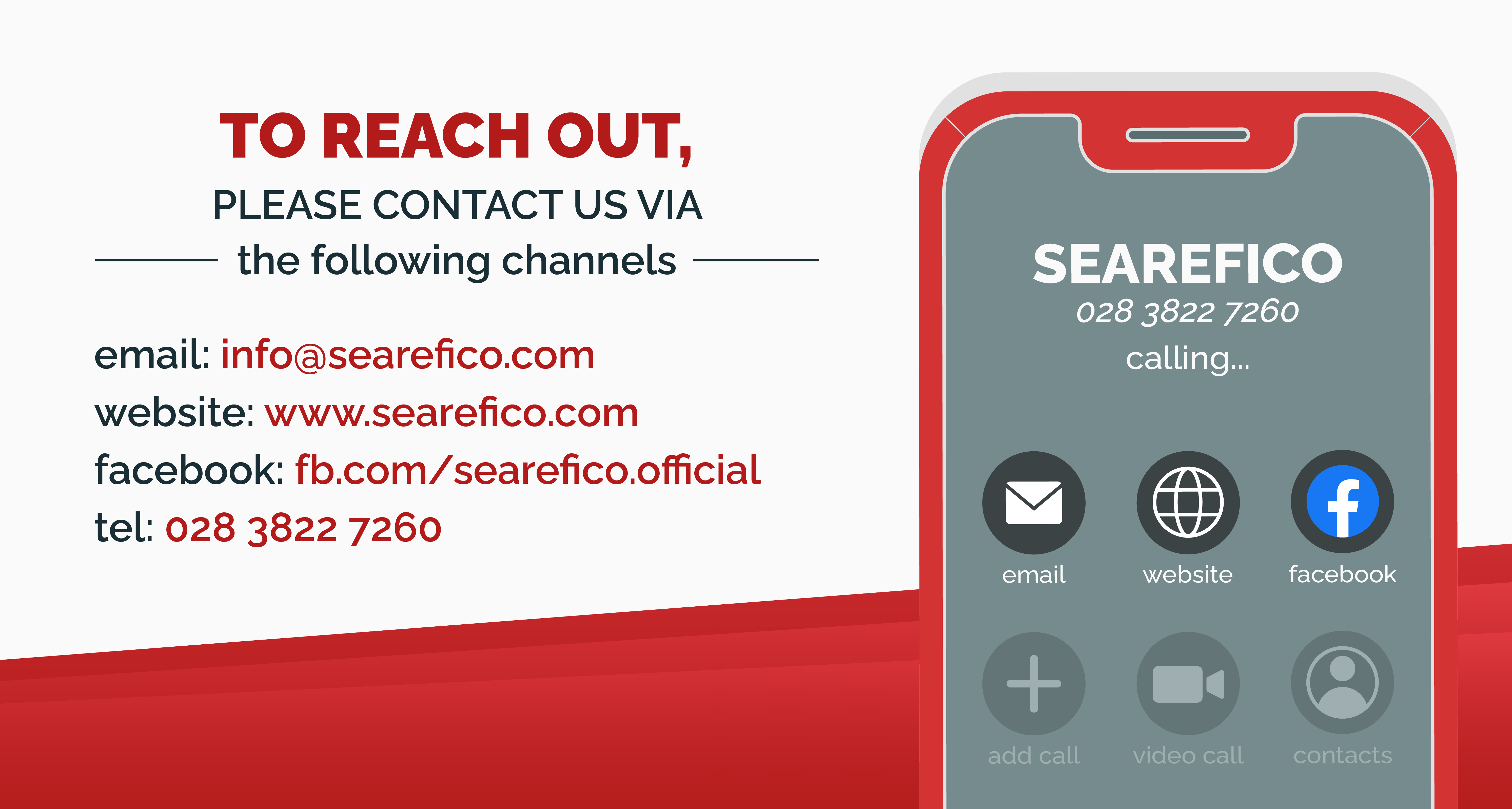 Together, we will make HCMC and Vietnam a safe haven for everyone, every household, every business. Please comply with MoH's 5K methods and fill in the Health Declaration form at www.khaibaoyte.vn or by scanning our onsite QR Codes upon visit. A regular declaration on Monday or immediate declaration upon experiencing symptoms such as fever, coughing, shortness of breath, sore throat, vomiting/ nausea, diarrhoea, skin bleeding, rashes… is also encouraged.