A SEAREFICO STORY: "A HEART FOR YOU"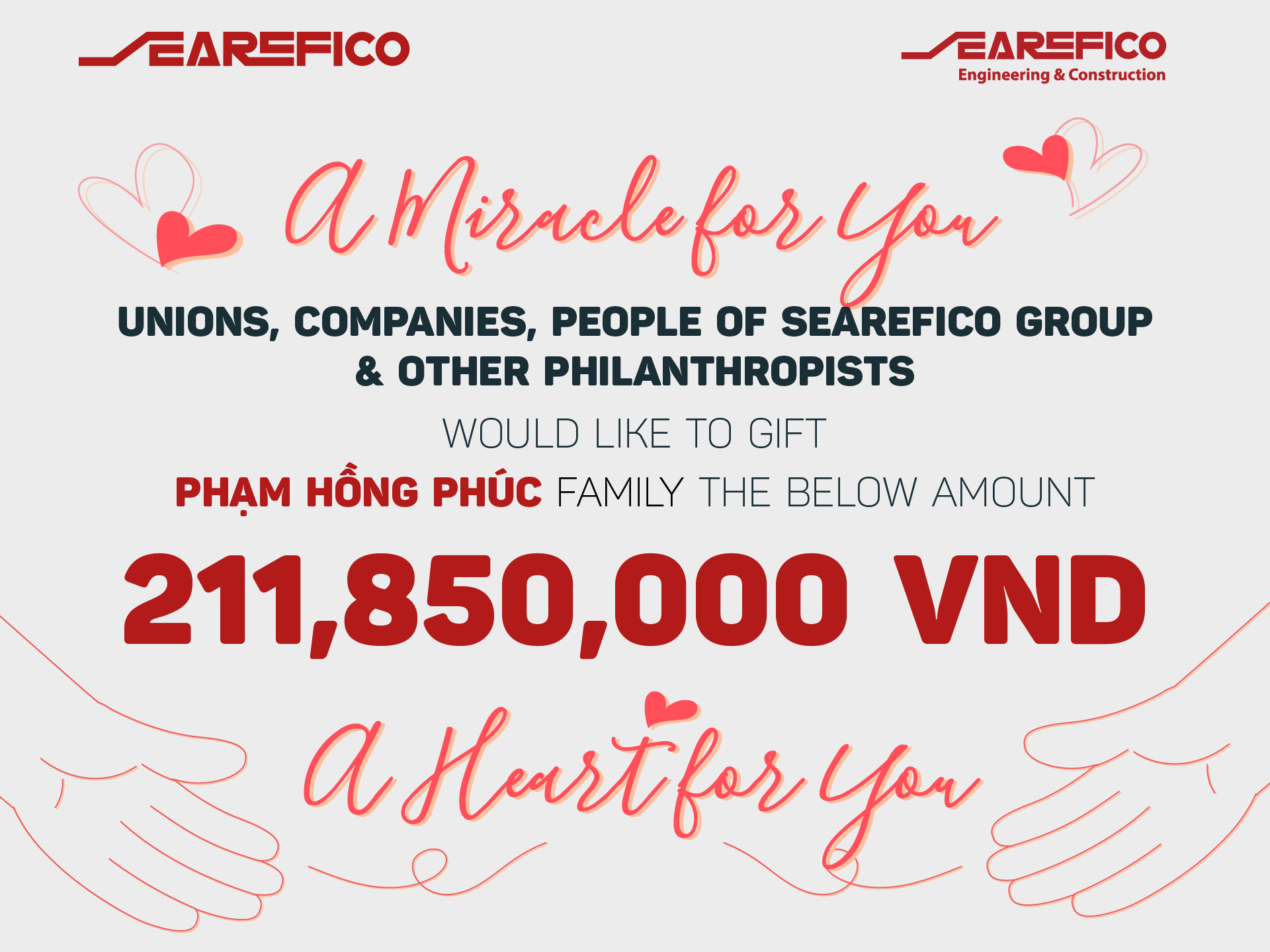 "Mom, what is June 1st? I was born, but that date seems so beyond."
The newborn child of Mr Pham Chanh Vuong, a T&C team member of Searefico E&C, came to life on May 14th. But alas, what came with him is congenital heart disease. He was separated from his mother and taken to the ICU since birth. Day after day, he struggles for the life his parents bravely gave him, despite knowing the risk of his health even before labour.
Vuong understands that the operation will cost him and his wife a fortune (more than 400 million VND), but he accepted it. As long as his son lives. Health Insurance covered 50% of the fee, but the remaining 212 million VND is worth a king's ransom for the newlywed couple. Vuong desperately tried to reach out as much as possible for the operation fee.
Finally, Vuong's story reached the Searefico Union, and the Union swiftly called for a donation, with the message of: "The miracle of June 1st".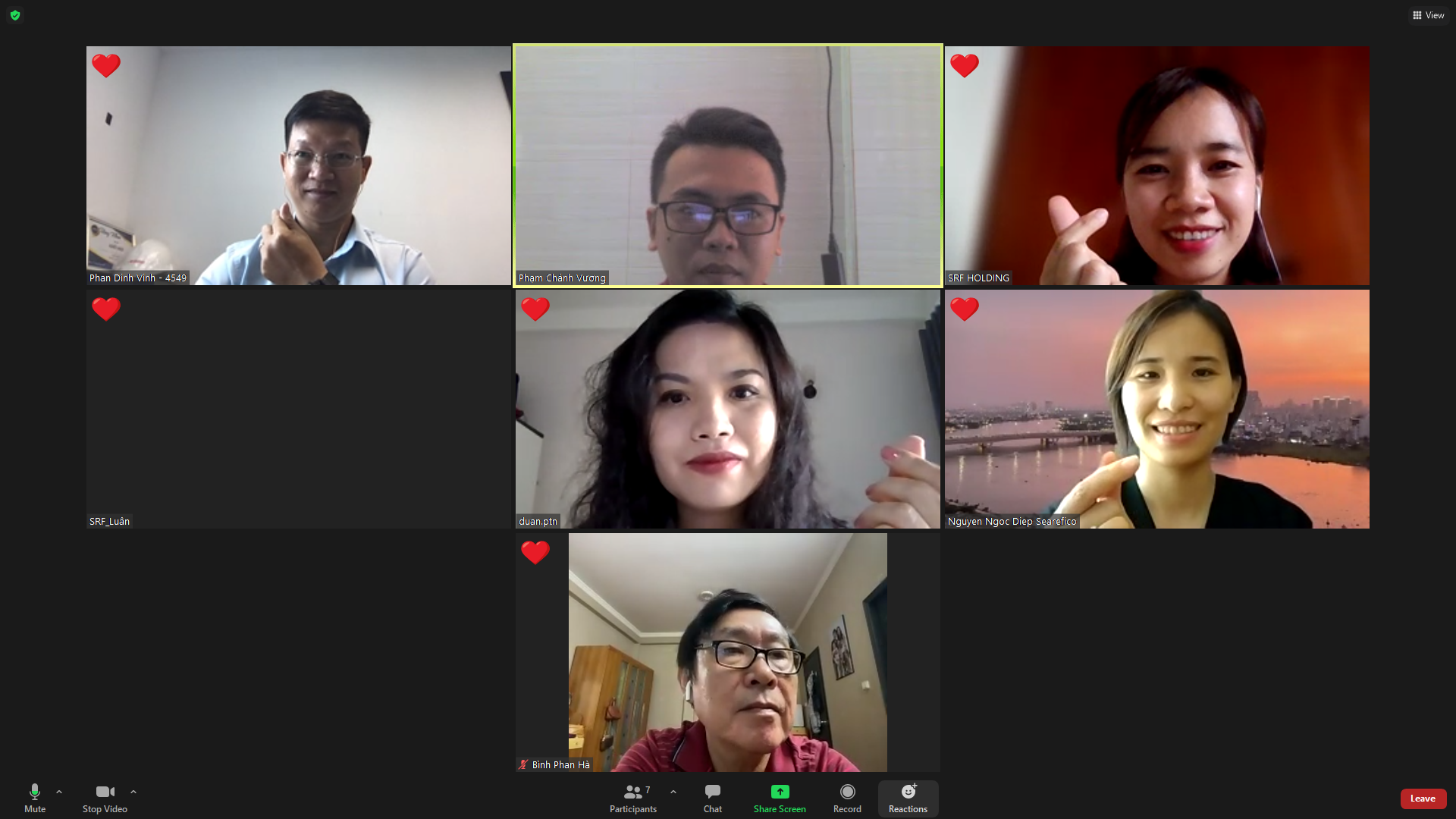 Picture: Representatives from Searefico Holdings Union, Searefico E&C Union, Searefico Human Resource & Administration Department, and Searefico PR & Branding Department hosted a Zoom call to deliver the donation to Mr Pham Chanh Vuong's family.
The news spread like fire, across the whole Searefico Group, and touched the philanthropic hearts of Searefiers. In just 3 days, the Union had gathered up to 182 million VND from all the group members, employees. Everyone wants to lift the financial burden off Vuong's shoulders.
On May 24th, the Union sent 100 million VND to Vuong's family in advance. The donation ran still, and on May 31st, the rest of the money was delivered, with a total amount of 211,850,000VND.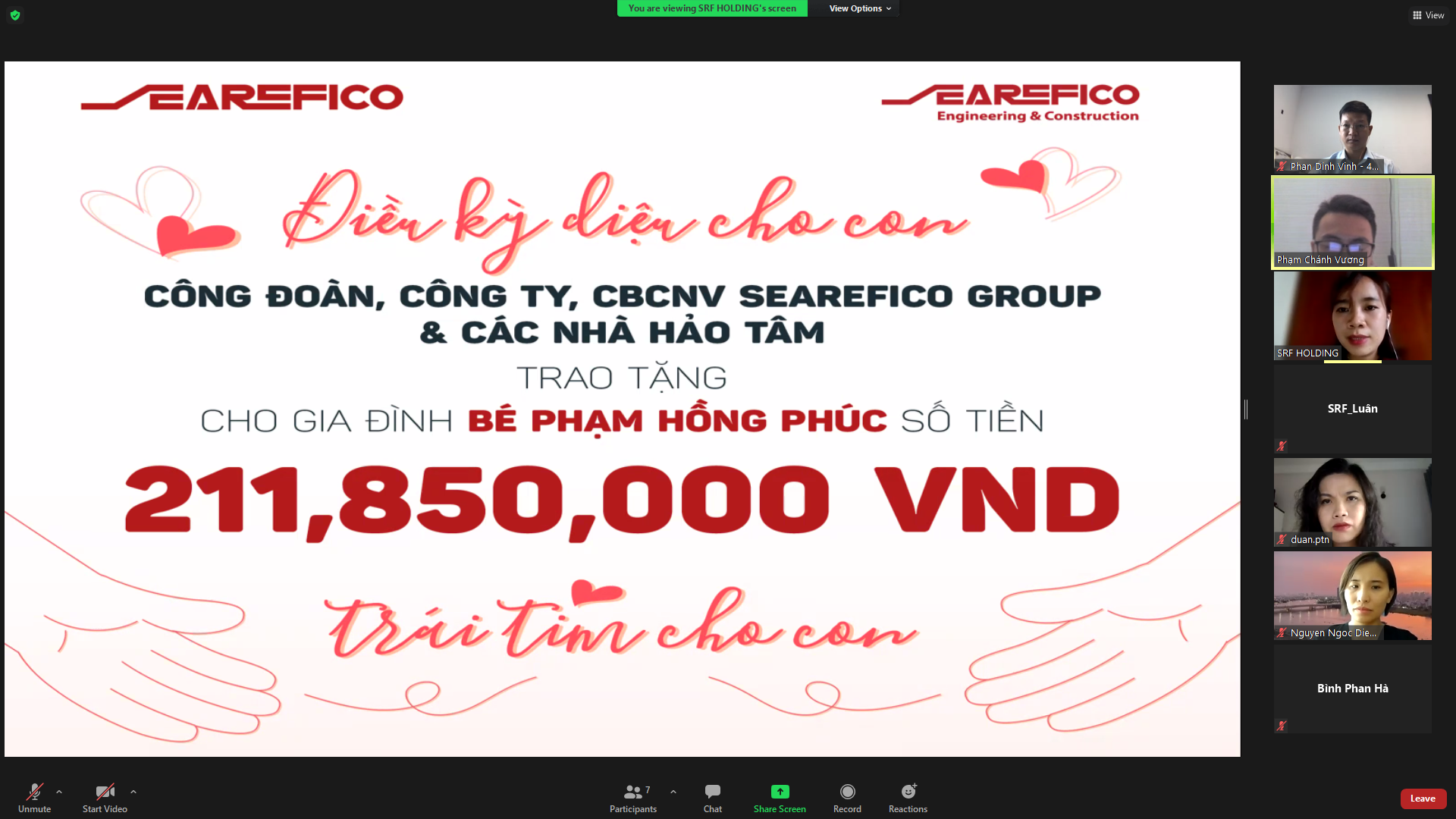 Mr Phan Dinh Vinh, the representative of Searefico Union, shared:
"Recently, Vuong's family welcomed a new member. Yet, his newborn son faced circumstances ever since birth. Bearing the responsibility of one of the leading figures of Searefico E&C, and as the head of Searefico Union, I have called for a donation to help Phuc (Vuong's newborn son) with his operation. With the message of "One swallow does not make a summer, but a million hearts create a miracle" the Union have gained supports from all over Searefico Group. I sincerely hope that Phuc will stay strong, full of vigor to overcome the first operation in life."
The journey of Vuong's newborn son is still far ahead. We hope that miracle will come, protect him from all harms, keep him strong, and empower his parents, giving them the energy to care for him.