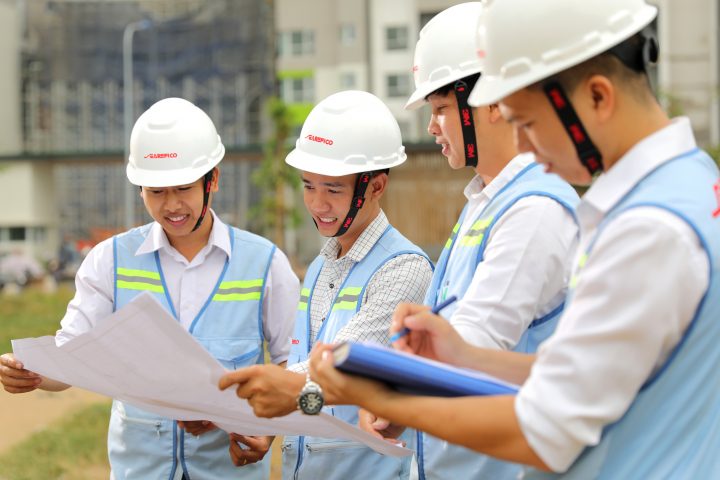 WORKING ENVIRONMENT
At Searefico, opportunities always come with challenges. Everyday is a big challenge, a higher step that every member strives to reach. Therefore, we create a modern, civilized, friendly, open and kind environment – the second home that everyone can easily associate with, optimizing their creativity and intellect.
A good environment is more likely to inspire the work and motivate the whole team to reach the goal. It is also the companion of trust, ability to listen, care, empowerment, recognition, development, and commitment of the company to improving the life quality of each member from the physical to material and spiritual aspect to be more and more fulfilled.
AT SEAREFICO, YOU CAN DEVOTE WITH CONFIDENCE, WE WILL TAKE CARE OF THE REST
ATTRACTIVE SALARY AND EMPLOYMENT POLICIES
We are well aware that you are important links in a consolidated system so we constantly develop and improve policies that are attractive, fair, highly competitive, reasonable rewarding, helping our employees to live and work in peace and contentment
01. Salary
Paid in the form of 3P salary, competitively, fairly and under clear regulations. Employees' salary are reviewed at least once a year. In addition, the salary raise policy is also flexible for outstanding employees.
02. Allowance
In addition to salary, each position has additional attractive allowances specific to their work. Searefico's core team is the project personnel. Therefore, the company has developed a policy of attractive allowance, helping the staff feel secure enough to work well. The most favourite allowances are: lunch allowance, parking allowance, work allowance, telecommunications charge (mobile phone, Internet and home phone), gasoline allowance, taxi expense, business trip expenses, etc..
03. Seniority
Searefico encourages the commitment and dedication of each individual to the organization. Therefore, the longer one is with us, the more preferrable seniority policy they are subject to.
04. Commendation
Beside wages, the commendation guideline is a highlight of Searefico's policy, which boosts the company image as a recruiter. This way, we recognize and reward the contributions to the company's common development. In addition to the 13th month salary, Searefico offers a variety of flexible, attractive incentive policies: bonuses in holidays, incentive for good production and business performance, "hot" bonuses for outstanding achievements, bonuses for teams having good performance, bonuses for role-model individuals, bonuses for managers based on their contribution to annual business results. In addition, the policy of offering preferred stocks ESOP is a special policy to show thanks to employees, increasing the consolidation and companionship in the company.
INTACT BENEFIT POLICY
In addition to the competitive compensation system, Searefico offers complete care, encouraging employees to keep secure attachment to the company, creating mental comfort, balancing work and life, increasing team consolidation via diverse forms of benefits.
01. Benefit policy
Diverse benefit policy, the care from the Company and Trade Union. For every important event in life, employees may receive congratulation from the company, from weddings, birthdays to children births, and sharing during their hard time. Every year, the company also organizes trips for employees to travel in and out of the country to relieve stress and enhance consolidation.
02. Being healthy and beautiful with Searefico and Health Insurance Policy
This is the most favorite policy in Searefico. The company organizes break dance sessions in between the working hours and dancing, tennis and football classes, and California Gym cards, etc.. Every year, employees are offered regular medical checks and secured with comprehensive health insurance packages, Accident insurance 24/24, Premium insurance for complete care.